End of Days Zombie Paintball Apocalypse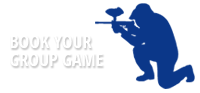 Zombie Paintball Apocalypse
Zombie Paintball has been extended due to popular demand! Join us on Friday, November 1st and Saturday, November 2nd starting at 7pm. Zombie Paintball only, the Trail of Terror will be closed!
$3 Grain Belt Specials, Beer Pong & More!
Civilization has completely collapsed after the zombie infestation. A small population of survivors are living in what used to be Minnesota, but a large invasion of zombies has been spotted in the nearby Woods of Terror and we need to eliminate them. Now is the time to recruit your soldiers for END OF DAYS – Zombie Paintball Apocalypse, with no threat of return fire. Join MN Pro Paintball at the Trail of Terror and hunt zombies on a guided walking trail. Stock up on ammo. Save humanity.
Join MN Pro Paintball at the Trail of Terror this October for Zombie Paintball Apocalypse!
Pricing:
Pre-sale tickets: available here
We are LIMITED to only 375 people per night – BUY YOUR TICKETS IN ADVANCE!
Admission includes paintball marker (gun), mask, and 100 glow in the dark paintballs.
Dates & Times:
Friday, November 1st and Saturday, November 2nd
Zombie hunting begins at 7 PM each open night.
End of Days is brought to you by Trail of Terror and MN Pro Paintball!
Location:
Trail of Terror
3525 145th Street West
Shakopee, MN 55379
**Please note that End of Days is NOT at MN Pro Paintball. This event is taking place at Trail of Terror in Shakopee.
Rules:
All participants must complete a waiver. A parent or guardian must complete a waiver if participant is under the age of 18.
Anyone deemed unsafe, for any reason, will be ejected with no refund.
All participants must purchase a Trail of Terror admission also.
All participants must wear paintball mask (provided) during the duration of the trail.
FAQ:
What is it?
Zombie Paintball Apocalypse is a guided trail where you use a paintball marker (gun) to shoot zombies. We use glow-in-the-dark paint and glow necklaces so you can see your kills. The zombies do NOT shoot back at you. You will have a mission to complete with your group members.
Will I get shot by a paintball?
You will not be shot at during the trail. There is the possibility of friendly fire (one of your group members mistaking you for a zombie). For this reason all participants must wear mask (provided) during the duration of the trail.
What should I wear?
You can wear the same clothing to the Zombie Paintball Apocalypse as the Trail of Terror. In the rare case that you do get shot by a fellow group member the paint washes out completely.
What is the minimum age?
No experience required, zombie hunters must be at least 8 years old.
Where is Zombie Paintball Apocalypse?
We are located at The Trail of Terror. It is seven miles South of Shakopee on 169.
Do I have to buy tickets in advance?
We recommend that you buy tickets online ahead of time. Tickets will also be available on-site on the day of the event.
What if it rains?
Humanity is at stake. We hunt zombies rain or shine.
Can I bring my own paintball equipment?
MN Pro Paintball provides all necessary equipment. Please do not bring your own.
3 comments on "
End of Days Zombie Paintball Apocalypse

"