Ninja SL Tank
The folks at Ninja Paintball we nice enough to send us an SL system with the Pro V2 reg pre-installed as well as a Pro V2 SLP to check out. Below are some images of the tank in addition to comparing it to current Ninja tanks as well as a Guerrilla Air system as most people claim those to be the current lightest bottle on the market.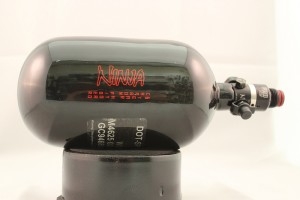 Unboxing:
The Superlite systems come in the same box as the other Ninja systems have for as long as we can remember. Included in the box is some packing paper (for safety of transport), the Pro regulator manual and the V2 manual addendum per updates to the V2 and parts that are NOT interchangeable. Upon removing the system from the packaging it is immediately noticeable how much lighter the system is than any other Ninja system (or any other DOT certified system for that matter). Looking at the bonnet you can tell the opening is much wider and also has less of a recession for the new ball bearing opening. The use of a ball bearing in place of the valve pin made for two changes, first being a larger flow path with a 30% increase in dedicated flow and second being a less inhibited path of travel for the air without the hard edges of the pin.
Contents:
• Ninja Superlite System
• Regulator Manual
• Manual Addendum
• Bonnet Removal Tool
Weight Comparisons:
The SL system definitely delivers on the lightest system claim. All systems used were completely drained prior to weight being registered. While the weight differential is not one pound exactly, it is quite noticeable when holding an SL system and any other system in separate hands.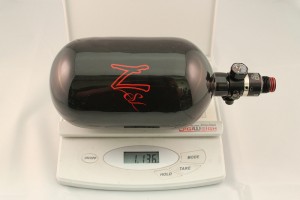 Height Comparisons:
When looking at an SL system side by side with other 68ci systems, there is a small difference that can be seen. When putting the SL system on a marker the difference is hardly noticeable, if at all. Per my personal preference of using a 77ci tank I simply threw a CP reg extender on and it felt the exact same as a DURA 77.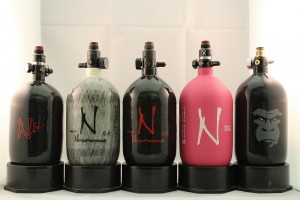 Pro V2 Adjustable Regulator:
The internals of the new Pro V2 regulator are very similar to the Pro (now V1) regulator. Where they differ is the ball bearing, spring, bonnet and ball seal. The adjustment shims and Belleville shim configuration are the same and have carried over to the new V2 system. The output pressures are therefore the same, which is nice as it will work for pretty much any marker out there.