Virtue Vio Goggle System
We received our Virtue Vio order, and upon unpacking everything and overcoming the feeling of a small child at Christmas began examining what all comes with the Vio and the features of the mask. What makes the Vio so exciting is that unlike a marker or soft goods, a mask isn't coming out every year. The mask market is very stiff with lots of competition from companies that have been making them for years.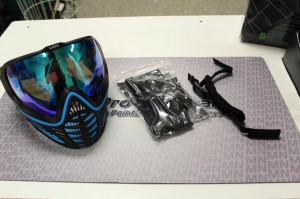 Unboxing:
The Virtue Vio goggle system comes in a nice flip top box that can also be converted in to a display box should you so choose. The Vio is held in place within the box by a molded plastic piece. The Vio simply lifts out of the box, and beneath the molded plastic piece is a bag with the goggle bag, lens bag and care instructions. The Vio comes with a chin strap (per ASTM requirements) the is easily removed with velcro. The Vio looks and feels very sturdy and gives the impression that it can easily handle direct shots at a very high velocity (or maybe even a bird shot from a shotgun). The bottoms although semi-rigid appearing in form are quite soft and easily flexible. The lens gives the ability to have a large field of view both laterally and vertically and the strap is able to be very loose for you larger noggin's fellas or extremely tight for all your 13 year olds. The mask itself is quite light and fits very well on the face. The dual density foam is removable and replaceable, which until now was only able to be done on a Vforce Grillz. In similar fashion to a Grillz as well, the latch system to remove the lens is similar but much more rigid. While it will be annoying at first, it's also peace of mind knowing the very thing keeping the lens in your system in place is not so easily removed. As an additional safety precaution Virtue has also included an "Unlocked" tab that shows when the clips are removed or not properly seated, so it's easy at a glance to tell if you have properly assembled the mask.
Contents:
• Virtue Vio Goggle System
• Virtue Vio Goggle Bag
• Virtue Vio Lens Bag
• Display Box
• Care Instructions