Off-Site Rentals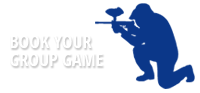 Do you want to feel the rush of paintball but don't live close to our field? Or maybe you've always wanted to play up at your cabin or lake property? Then our off site rental program is for you! We rent out quality equipment that you can use on your own land and enjoy on your time!
Each Rental Package Includes:
Semi Automatic BT4 Combat Paintball Marker
Full 20oz CO2 Tank (Approx. 1100 Shots)
200 Round Hopper
Paintball Mask
Barrel Bag
Please call us at 952.892.1540 for pricing information.