Empire Axe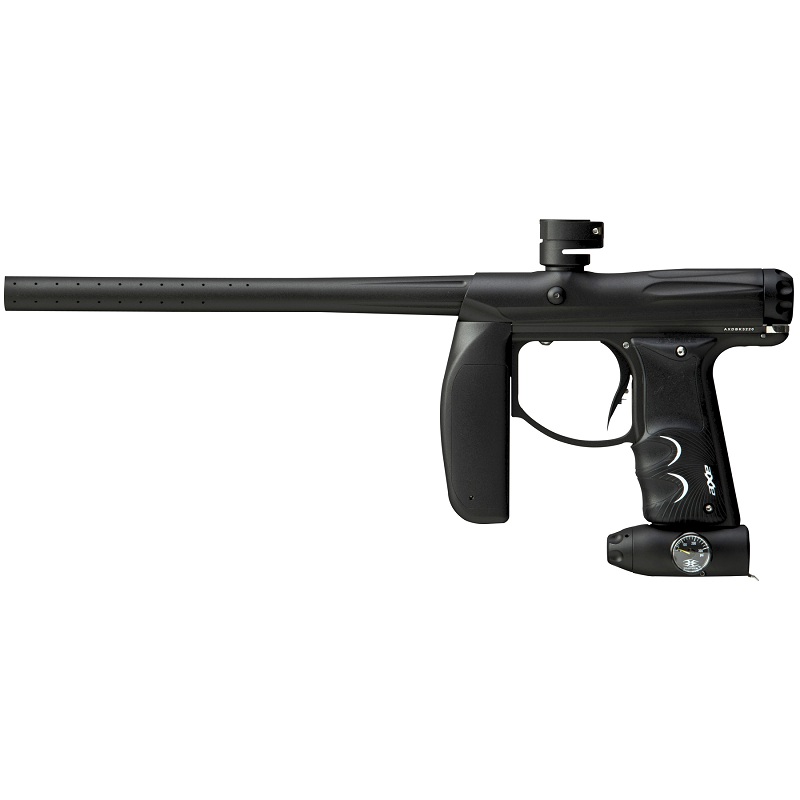 Once you have moved past the beginner stage and know you're ready to the next step into paintball, the Empire Axe is a great choice. This marker takes a little more knowledge to learn than your average entry-level marker, but the performance improvements are worth it.
What's great about it?
The Empire axe operates at a low 200psi input pressure making it extremely quiet and smooth to shoot even the most fragile paint. It also incorporates a gas-through air line that eliminates the need for that pesky external air line.
Specs:

Weight (with battery and barrel): 2lb, 4.9oz
Length: 18 inches
Height: 8.25 inches
Width: 1.5 inches
Other Recommended Accessories:
Barrels: The Empire Axe comes with a short barrel, so the barrel should be one of the first things that you upgrade. While it isn't necessary, it will improve your accuracy and effective range quite a lot.
Compressed Air Tank: A marker like this will not run off of Co2 like a Tippmann marker. Therefore, it this is your first venture into this type of marker then you will need to purchase a compressed air tank. Ninja Paintball makes great tanks and we carry a wide variety of them.
Electronic Hopper: The Empire Axe is controlled by a circuit board and can achieve high rates of fire. It is because of this that you may find your gravity to be obsolete. Electronic hoppers use batteries to force feed the paint into the marker at high speeds so you can effectively achieve those high rates of fire.
About MN Pro Paintball Stores:
When you step into our retail stores you will be greeted by the most knowledgeable staff and largest inventory of paintball equipment and supplies in Minnesota. Our employees are passionate paintball players who have been in the industry for years. We work with you to find the right equipment for your preferences and budget, and all of our equipment comes with a lifetime warranty.
Our new Burnsville store features an indoor shooting range so you can try all of our products before you buy!
Questions?
Stop by the store! Our staff members are more than happy to help choose the best products for you.
Call: 952.892.1540
Email: info@mnpropaintball.com
Like: facebook.com/mnpropaintball