Ninja 48ci/3000psi Air Tank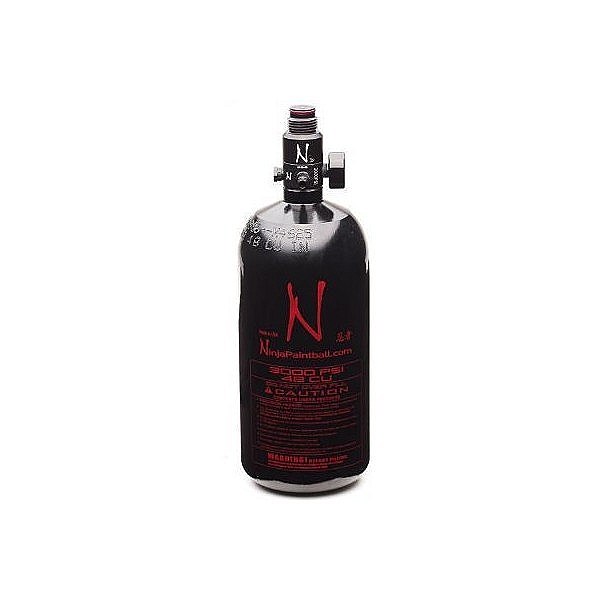 This is the perfect first air tank for somebody who is either making the switch from Co2 or is new to the sport and is looking for an air tank.
What's great about it?
The Ninja 48ci/3000psi tank is durable, extremely easy to use, and is backed by the great customer service of Ninja Paintball. Ninja regulators are fully user rebuildable and can be adjusted from 450 – 850 psi depending on your pressure needs.
Stats:
Weight: 3lbs, 3.3oz
Length: 10.5 inches (from tip of regulator to end of bottle)
Width: 4 inches
Height: 3.5 inches
Other Recommended Accessories:
Tank Covers: Tank covers are a great way to protect your tank from damage. They come in many sizes to fit all kinds of tanks and will also provide grip when resting your tank on your shoulder while firing.
Thread Protectors: A thread protector is another low-cost way to protect your tank. A metal or plastic thread protector screws over your tank threads to protect them from damage in the event you drop your tank.
Fill Nozzle Covers: Without a fill nozzle cover, dirt and debris can find their way into your tank when you fill. This results in the debris eventually being transferred into your marker. This debris can cause damage to your equipment. Grab a fill nozzle cover to protect your equipment from dirt and debris.
About MN Pro Paintball Stores:
When you step into our retail stores you will be greeted by the most knowledgeable staff and largest inventory of paintball equipment and supplies in Minnesota. Our employees are passionate paintball players who have been in the industry for years. We work with you to find the right equipment for your preferences and budget, and all of our equipment comes with a lifetime warranty.
Our new Burnsville store features an indoor shooting range so you can try all of our products before you buy!
Questions?
Stop by the store! Our staff members are more than happy to help choose the best products for you.
Call: 952.892.1540
Email: info@mnpropaintball.com
Like: facebook.com/mnpropaintball