Tippmann 98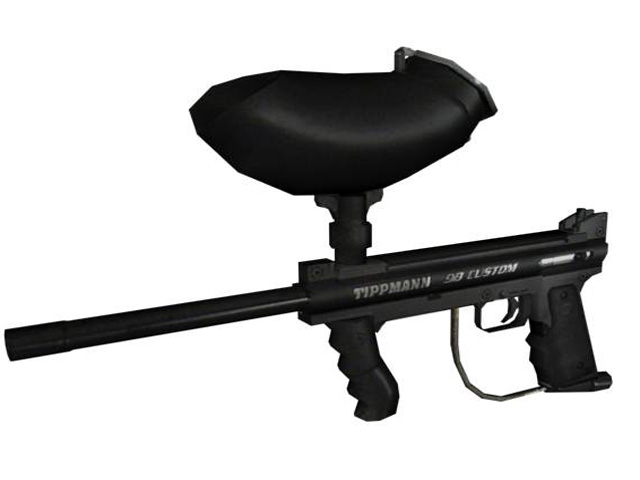 The Tippmann 98 is perfect for the beginner paintball player who is looking for something that not only won't break the bank, but will also be extremely durable.
What's great about it?
The Tippmann 98 is the essence of entry-level paintball. It is extremely durable, very easy to use, and if for some reason it does break down, it is quite possibly one of the easiest markers to diagnose and fix on the market today.
Specs:
Weight w/ barrel: 2lbs, 14.2oz
Length: 18.75 inches
Height: 7.5 inches
Width: 1.25 inches
Fire Modes: Semi-Automatic (Electronic Grip Kit allows for burst, full-auto, and response).
Other recommended accessories:
Response Trigger: The response trigger is a small air piston that sits in the grip. After every shot the piston is pressurized and instantly returns the trigger. All you need to do to reach speeds of 10+ balls/second is apply steady pressure to the trigger.
Electronic Trigger: The electronic trigger kit is an electronically powered circuit board and microswitch. You will have the ability to fire in semi-auto, burst, full-auto, and response modes with the electronic trigger but must also keep a fresh battery installed.
Flatline Barrel: The flatline barrel is an aftermarket barrel that puts a lot of backspin on each paintball. This backspin gives the paintball a flat trajectory and increases your shot distance dramatically.
About MN Pro Paintball Stores:
When you step into our retail stores you will be greeted by the most knowledgeable staff and largest inventory of paintball equipment and supplies in Minnesota. Our employees are passionate paintball players who have been in the industry for years. We work with you to find the right equipment for your preferences and budget, and all of our equipment comes with a lifetime warranty.
Our new Burnsville store features an indoor shooting range so you can try all of our products before you buy!
Questions?
Stop by the store! Our staff members are more than happy to help choose the best products for you.
Call: 952.892.1540
Email: info@mnpropaintball.com
Like: facebook.com/mnpropaintball