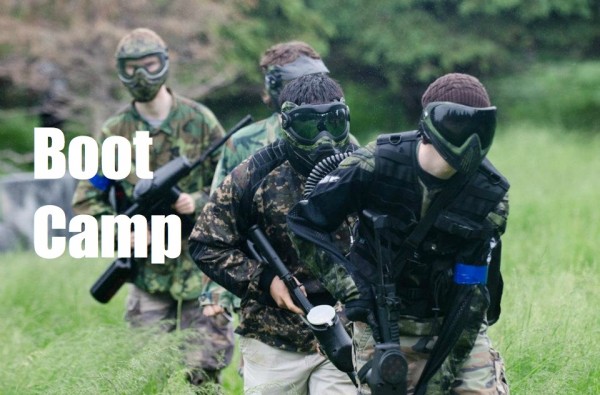 MN Pro Paintball's third and final Boot Camp is coming up on Tuesday, August 14th. This day-long event will make you a better paintball player!  Professionals in the paintball industry will provide tactical training and skills for woodsball, speedball, and recreational players.
Cost per event is $100 and includes all day training, 2 cases of paint, and lunch. If you sign up for all three Boot Camps, the cost is $250.
Pre-registration is OPEN. Please sign up for the Boot Camp you want to attend below. You can also sign up for Boot Camp at any of our locations and by phone.
The price for season pass holders is only $80. If you are a season pass holder please call us at 952-892-1540 or visit one of our retail stores for registering for the event.
MN Pro Paintball will be hosting three Boot Camps during the 2012 season. Each Boot Camp will progress from the previous so that interested players will have the opportunity to grow throughout.  All three of the Boot Camps will have coaches and drills set up on so that any player, regardless of playing style, will have the opportunity to grow and fine tune their game. The second and third events will start with a brief refresher of the previous camps so that players who are unable to attend the first event will not be left behind.
We are capping the Boot Camps at 40 players so sign up soon!
Check in:  8 am
Lunch (provided):  11:30 am
Pick up:  5 pm
First Session:
Our first event of the series will be designed to build a strong foundation for players who are just getting started or novice players looking to work and fine tune their fundamentals. All concepts will be applicable to both woods ball and speedball. Each idea will start with a brief meeting and explanation and will then have a series of practice drills. Concepts covered:
Walking Fields: Field walking 101, what to look for, techniques for playing different styles of bunkers, the basics of building a game plan, & strategies for winning!
Communication: How does it work, why is it important, fundamental concepts and usage, how to build a code system for your team!
Gun Skills: Gun handling fundamentals, importance of using both hands, snapping, posting up lanes, and strategies for winning gun fights.
The last two hours of this session we will break up the group into fair teams and assign a coach to each team. We will run games with basic strategies to help reinforce newly developed skills. Coaches will be available to help and answer any questions and to give individual feedback.
Second Session:
Our second event of the series will start out with a brief summary of the previous camp. We will then dive into the next set of skills. The goal of this camp will be to build on the foundation of the previous camp and take on more advanced skills. Concepts Covered:
Advanced Game Strategies: Walking fields and the details needed to win, the importance of secondaries, spreading the field, & closing the game!
Advanced Gun Fighting: Fighting with both hands, controlling a tape line or zone, importance of wrapping, & using your gun to move the game forward!
Structured Communication: In game situations and problem solving using communication, basic positions their role in communication, strategies for removing tunnel vision and keeping your team informed.
The last two hours of this session we will be break up teams and develop a code system and game plan. The teams will play multiple matches with their coach watching to help problem solve and fine tune. Pre-existing teams that sign up for this event will be allowed to stay together and have the opportunity to walk and field and develop their codes with a coach!
For those that are interested: After our second session ends we will be holding a small meeting for those who are interested in starting their own team. We will go over the basics of forming a team and how to manage it. This meeting is not mandatory for the camp but is a free bonus for those who want more info!
Third Session:
Our final event of the series will be broken into two separate sessions. During the morning session we will have several drill stations set up on Timberline Ridge and the X-Ball field. Players will be able to float from drill to drill and focus on their individual needs and speak with the coach at each station. Our afternoon session will be a mock tournament for both woods ball players and tournament players. We will pick fair teams and each team will get a coach. Your team will walk the fields and develop codes with your coach. You will then play each team with your coach! Woods ball teams will only play woods ball teams and speedball teams will play only speedball teams. After this event we will again hold a meeting for interested players or teams who want more information on building teams. We will cover topics such as playing tournaments, how to manage your practices, team money, and of course sponsorship.